Explorer Program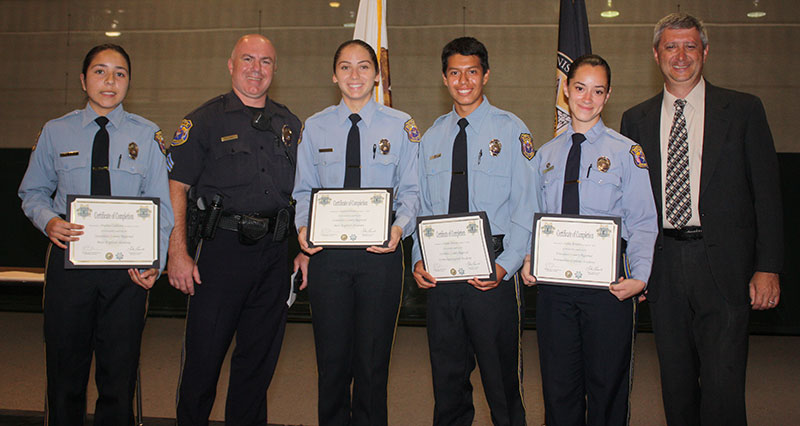 Police Explorer Program Post 900
The Turlock Police Department Explorer Program is an invaluable experience for young adults, ages 14 - 21 years old, who are interested in law enforcement. The program not only serves as a gateway into law enforcement, but allows explorers to further their education, participate in rewarding and productive service activity, and to further their development as a citizen, a community member, leader, and as a future law enforcement professional. It is the objective of the Turlock Police Explorer Program to develop in its members, life-long lessons and positive traits, and to develop leadership and citizenship in youth.
Explorers who wear the uniform and insignia that identifies them as being part of this department are subject to a far more rigid standard of conduct than their peers, and quickly learn that only the highest standard of conduct is acceptable. Every Explorer is a leader, whether in a leadership position or not, and are expected to set the standard in their schools, among their peers, and in the greater community. Law Enforcement Explorers have training and experience above that of the average person, making them better prepared as applicants for future Law Enforcement positions. In addition, Explorers will gain invaluable experience that can be used to further their careers even if they decide to choose a career outside of law enforcement. Explorers contribute many hours of their personal lives to the service of others during their participation in the Explorer Program. When they have finished with their Explorer experience, they can reflect back and take pride in the fact that they have made a contribution to the welfare of their community.
Turlock Police Explorer Duties
Turlock Police Explorers always work under the direct supervision of an explorer advisor, or with another employee of the department.
The following are examples of what the Explorers may be asked to assist with (however, they are not limited to the following):
Department activities such as Open House, National Night Out, and the Turlock Bike & Safety Fair
Traffic control for accident scenes or events such as the Stanislaus County Fair, parades, and the KAT country concert.
Operation of DUI/Driver's license checkpoints or other crime prevention events
Crime scene investigations
Other activities that the department may run; or calls the Explorer may respond to while on a ride-along with an officer.
Requirements to Join the Turlock Police Explorer Program
Applicants must be at least 14 years of age (and out of the eighth grade), and have not yet reached their 18th birthday. (Explorers may remain active in the post until the end of the calendar year of their 21st birthday.)
Parental approval must be obtained.
High School transcripts demonstrating a 2.5 grade point average, or better, must be enclosed with the application.
The applicant must be in good health and without physical condition(s) that will endanger them, or another member of the Police Department.
The applicant must be of good character and possess good moral habits. Driving records will be considered.
All applicants who are accepted must obtain a Turlock Police Explorer uniform (uniform shirts and pants provided by the Department.)
All applicants must successfully pass a background investigation including, but not limited to, a criminal history records check.
All applicants must submit two reference letters written by two adults who can attest to the applicant's good character.
None of the above requirements are intended to be an automatic disqualifier. All of the above are taken into consideration when considering an applicant. If you feel that there are special circumstances that should be considered when applying, contact an Explorer Advisor.
For more information on the Turlock Police Explorer Post # 900 please contact Sergeant Steve Crawford at (209) 668-6503, or by e-mail at
scrawford@turlock.ca.us
Turlock Police Explorer Application
Current Explorer information and updates (for current explorers only)
Advisor Information (for advisors only)