Speed Limits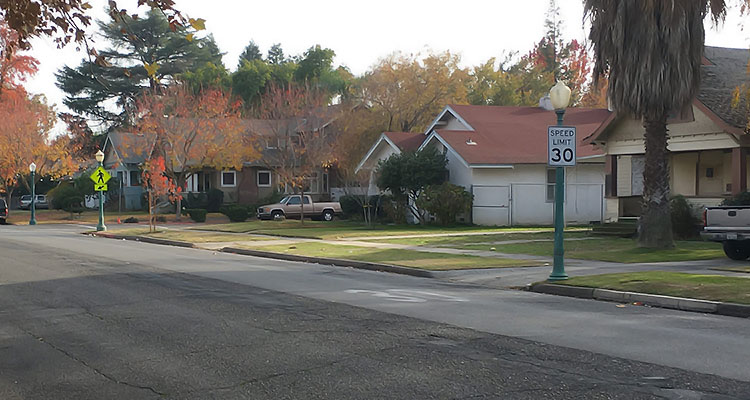 Speed limits are necessary to establish safe and reasonable speeds for traveling on public roadways. These limits vary based on a variety of conditions. There are two primary types of speed limits: prima facie and altered. Prima facie speed limits are standard (default) speed limits for certain types of roadways or conditions, regardless of whether a sign is posted. For example, an undivided, two lane roadway has a prima facie speed limit of 55 MPH. Altered speed limits are those that have been modified on the basis of an Engineering & Traffic Survey (Survey), with the results of those surveys adopted by the City Council and posted accordingly. The City has the ability to either maintain the prima facie speed limit or go through the process of altering it in accordance with the California Vehicle Code.
Roadways that are identified on the California Roadway Systems map, which are generally collectors, arterials and expressways, are roadways that may receive federal funding for roadway treatment. Federal rules require that these streets have a Survey performed as a condition to receive federal funding. As such, to ensure the City's ability to receive these funds as opportunities permit, the City conducts a Survey for all such roadways, as well as other roadways when a specific need exists.
Speed Zone Study / Engineering & Traffic Surveys
Contrarily to popular belief, the City is not empowered to simply change speed limits at the request of citizens or discretion of City leaders and still have those speed limits remain enforceable under the law. In accordance with California Vehicle Code Section 40802, speed limits that have been altered from prima facie must be supported by findings in a survey or they are not enforceable. The same law places time restrictions on the validity of the survey, requiring it be completed at least once every five to ten years, depending on a variety of factors. In Turlock, these Surveys generally are valid for seven years.
California Vehicle Code Section 40802
The most recent version of the City's Speed Zone Study, a compilation of surveys for all specified roadways, was completed in August 2014, adopted by the City Council and amended Turlock Municipal Code Section 4-7-1402 on November 27, 2014.
Speed Zone Study