Used Oil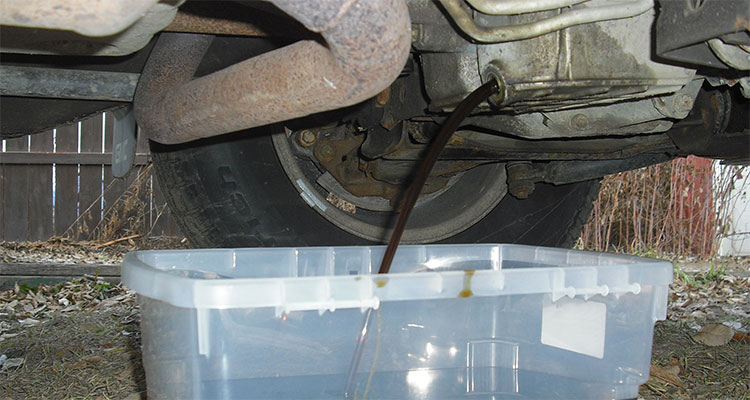 Each year, millions of gallons of used oil are illegally poured down drains and sewers or disposed of in the trash, harming our environment. Recycling used oil and filters helps eliminate pollution of our soil, waterways and drinking water.
To properly recycle your used oil, follow these simple steps:
After changing your motor oil, DRAIN oil filter into a drain pan or container for at least 24 hours.
POUR used motor oil into container using a funnel to avoid spills.

You may use the containers your oil came in, or a clean reusable plastic container with a screw-on lid.
Be sure to use a drop cloth, and use rags to wipe up spills.
For big spills, soak up with an absorbent such as kitty litter and then dispose in trash.
DO NOT MIX used motor oil with any other automotive fluids, such as anti-freeze or brake fluid. Contaminated oil cannot be recycled.
DO NOT hose down your work area.
SCREW LID on TIGHTLY. Wipe up any oil on outside of container.

Place oil filter in a re-sealable plastic bag.
Take the oil to any of the following Turlock locations:

10 Minute Lube N' Oil
1398 Geer Road, Turlock, CA 95380
209-632-0188
10 Minute Lube N' Oil
437 N. Golden State Blvd., Turlock, CA 95380
209-632-0188
10 Minute Lube N' Oil
1620 Countryside Drive, Turlock, CA 95380
209-669-2704
AutoZone
1272 Geer Road, Turlock, CA 95380
209-669-8322
O'Reilly Auto Parts
2200 W. Monte Vista Avenue, Turlock, CA 95382
209-634-1358
O'Reilly Auto Parts
1144 Geer Road, Turlock, CA 95380
209-632-2458
O'Reilly Auto Parts
1601 Lander Avenue, Turlock, CA 95380
209-664-0195
SpeeDee Oil Change & Tune Up
2707 W. Monte Vista Avenue, Turlock, CA 95380
209-664-1996
Turlock Recycling
1020 Walnut Road, Turlock, CA 95380
209-668-6060
Other Disposal Options
Turlock Scavenger has a curb-side pick-up program for used motor oil. Call 209-668-7274 to schedule services.
Two days a year Stanislaus County has a mobile Hazardous Household Waste Disposal unit in Turlock which accepts all hazardous household waste. In addition to these two days, Stanislaus County has a facility open every weekend accepting hazardous disposal from all residents in Stanislaus County. This collection is not only free of charge, but also provides an alternative to illegal dumping of hazardous waste. The collection runs from 8:00am to 12:00pm.
Used Oil Facts
One gallon of used oil can pollute one million gallons of fresh water!
Just one pint of oil can produce a slick on the ocean's surface the size of a football field!
Used motor oil can contain toxic substances such as benzene, lead, zinc, and cadmium.
Before it is drained, an oil filter can contain one pint to one quart of used oil.
Used oil filters are recyclable because they're made of steel.
Filters can be recycled into new steel products, such as cans, cars, and appliances, and construction materials such as rebar and beams.