National Night Out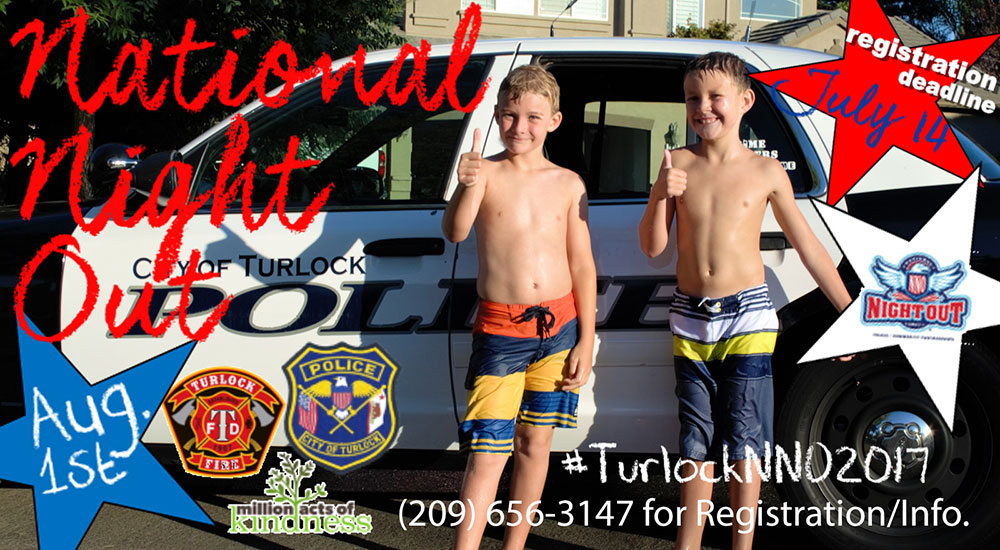 National Night Out 2017 will be Tuesday, August 1st

There will also be a Coordinator/Block Captain Social/appreciation and donation pick up on July 27th, 2017, 6:00-8:00 p.m. at the Turlock Police Department in the Training Room (round glass room at south end of parking lot). Note: There will be NO Block Captain BBQ dinner this year.
National Night Out
National Night Out is held annually in early August, and is designed to:
Heighten crime and drug prevention awareness
Generate support for, and participation in, local anti-crime programs such as Neighborhood Watch
Strengthen neighborhood spirit and police-community partnerships
Help Turlock Police send a message to criminals letting them know that neighborhoods are organized and fighting back
Neighborhoods can celebrate NNO with a variety of events & activities such as:
Block parties
Cookouts, Barbeques
Ice Cream Socials
If you have a party you could receive a visit from:
Turlock Police & Fire
Turlock City Officials
McGruff the Crime Dog
Residential Street Closure
Application
Crime Prevention Classes
Please be advised that all participants in the National Night Out event are subject to being photographed/videotaped. Such photographs may be used by the City of Turlock without an obligation to provide compensation to those photographed.